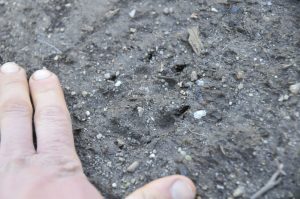 "The tragedy in life is not what people suffer, but what they miss" – Thomas Carlyle
"The art of tracking, as practiced by contemporary trackers … is a science that requires fundamentally the same intellectual abilities as modern physics and mathematics" – Louis Leibenburg 
 "Tracking is like dancing, because your body is happy. It is telling you the hunting will be good. You feel it in the dance. It tells you. When you are tracking, and dancing, you are talking with God." – !Nqate Xqamzebe from The Great Dance
Join us for our seasonal tracking clubs. Together we will explore the landscape and see what kinds of stories it has to teach us.
Our team of nature enthusiasts and trackers will guide the group in some fun discoveries and facilitate teaching moments inspired by what we find that day. This is a family-friendly outing ! This is also a great way to give a contested area of Montreal wilderness some regular attention, communion and celebration.
We also hope to introduce you to aspects our mentoring model, such as following our curiosity, using questions as the primary vessel for sharing learning and knowledge, and employing storytelling as the powerful teacher that it is.
These outings are free! (Donations are welcome)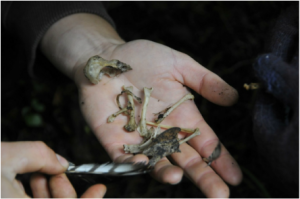 We meet at parc L'Anse à L'Orme, at the parking lot by the water. You must pay for parking.
** We have not planned for any outings this season. Stay tuned through our newsletter and / or facebook for upcoming outings.