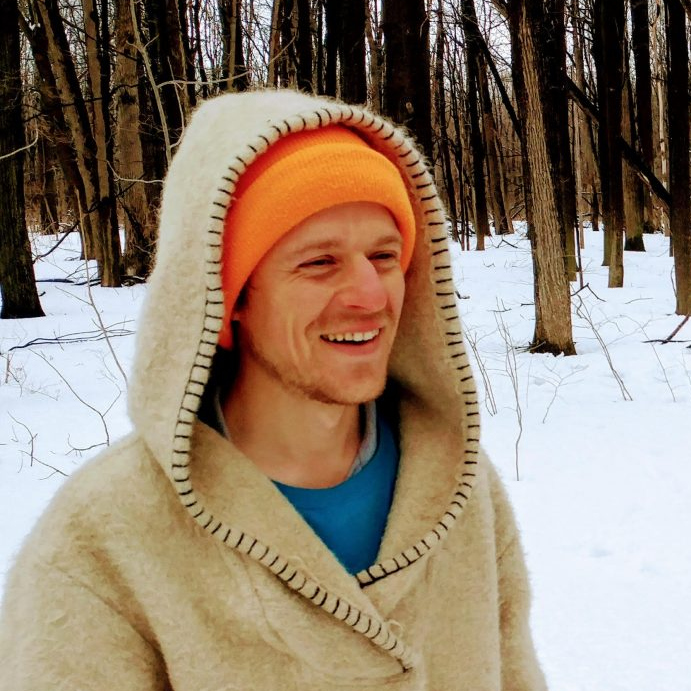 Steve Leckman
Director, Instructor
Steve finds a lot of hope from the magic of connecting deeply with the natural world in community. He has studied at the Tracker School, Past Skills, McGill University, and was an apprentice at the Wilderness Awareness School. He is an accomplished wildlife tracker and passionate earth skills practitioner. He has guided canoe expeditions and wilderness excursions for many years. He has been coordinating and leading nature connection and mentoring programs in the Montreal area since 2011. You might catch him sitting in his backyard listening to birds, tending the garden and bees, breaking rocks for stone tools, crafting bows and arrows in his garage, beat-boxing or pretending to be a raccoon.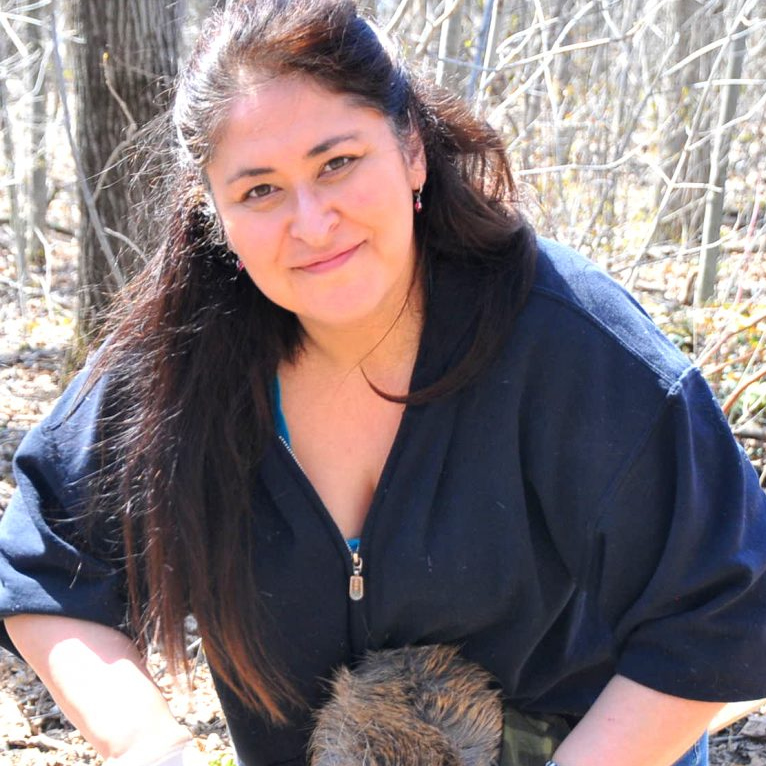 Kawisente McGregor
Kahnawake Site Director, Instructor
Her Kanien'kehá:ka (People of the Spark or Flint) name is Kawisente, meaning 'Icicle Melting'. She has been a long-time supporter of nature connection programs on the native reserve she calls home, Kahnawake (meaning – by the rapids). A mother of two and an avid supporter of social and native justice issues, she always finds time to go where she's most needed to lend her voice. She is the site director for Coyote Programs' camp in Kahnawake, and a regular visitor to the youth and adult programs. Kawisente is always happy to share stories and information about her culture both during and out of program time, and she is always open to learning about other cultures as well. She does this with a deep sincerity and wicked sense of humor that keeps our team and participants on our toes.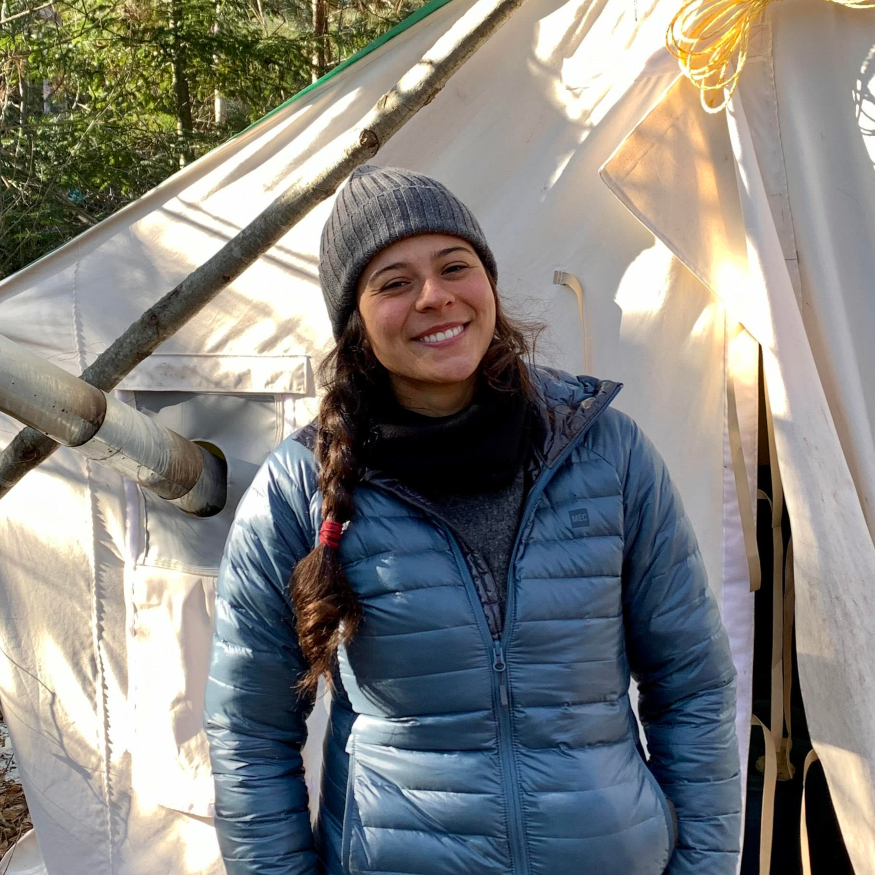 Laura Molina
Youth Coordinator, Instructor
Laura comes from Colombia and arrived to Canada as a teenager. Since she was very young she had a big love for rain, birds and watching ants bring food to their nests. This inspired her to study environmental biology at McGill where she had the chance of helping in a couple of research projects related to crayfish, tropical plants and bird diversity in Colombia and Panama, and snowshoe hares in Yukon. These experiences created a desire to share not only her love for nature but also the importance of creating spaces were people feel connected to the natural world and ultimately to themselves.Since, she did a training as a forest therapy guide and has worked at different nature summer camps including Coyotes camps. On her free time, you will see her doing outdoors activities specially very slow and contemplative walks with friends, and in the summer you might find her tending to her bees as she also has a big passion for beekeeping.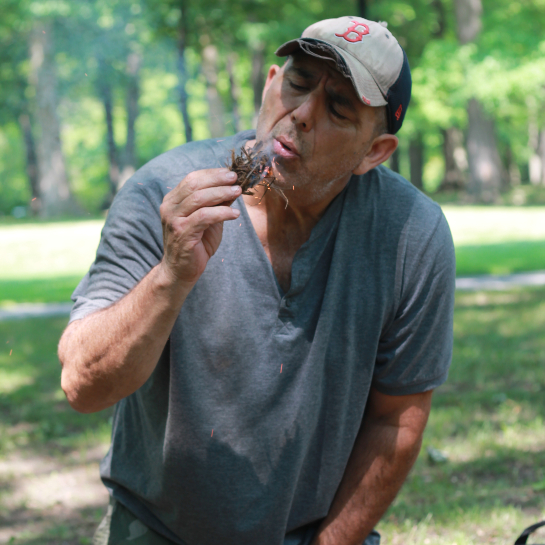 David Mccomber
Instructor
David has been a high school teacher at the Kahnawake Survival School for the past 30 years. He enjoys working with people and learning from anyone. He is passionate about wilderness skills and nature connection and enjoys seeing people have successes. He is over half a hundred and keeps his sense of humor as sharp as his chainsaw.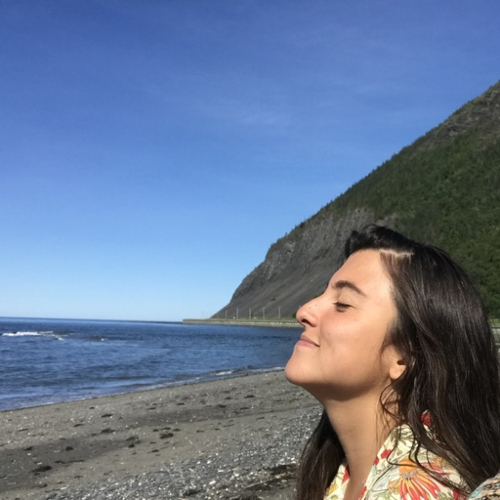 Cleo Da fonseca
Instructor
Cleo is from the hot sunny coast of southeast Brazil and has been slowly getting to know and appreciate the vast beauty of winter in these lands she now calls home. Nature education blossomed in her life alongside theatre & theatre education, puppetry, music, folklore and storytelling. She is keenly interested in meeting life on Nature's terms : small and big, near and far, old and young… and all (so much!) in between. She studied in Communication Studies and has been a puppeteer and theatre performer since 2018. You might spot her basking in the sun by the water at all times of the year.
Jesse Grindler
Instructor
Jesse is from the rocky coast of BC and grew up climbing the trees and eating the fish of that beautiful region. He is a passionate explorer of the play instinct and loves blending the arts with nature connection. He has trained in and practiced Arts-Based Facilitation, Puppetry, Physical theatre and Clowning for over a decade and sneaks these things into his work with youth in nature. Always curious about how stories shape our world, he sees this work as a way to transform lives and cultures towards a state of connection, integrity and creative possibility. Jesse enjoys making things with his hands and exploring the natural world– he makes musical instruments and carves, eats wild plants and loves to tend a good fire.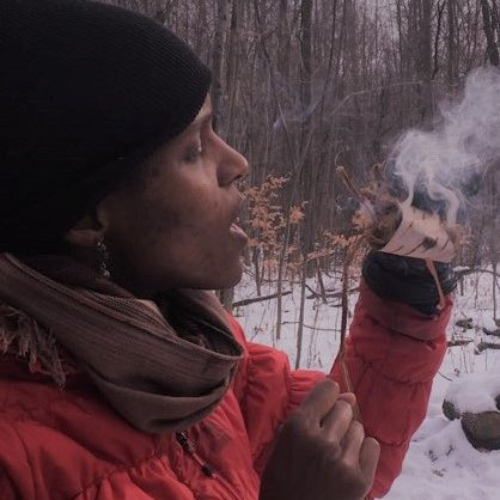 Muriel Bontemps
Instructor
Muriel is a mother and a teacher who loves to find nature in the city. She grew up riding her bicycle around her neighborhood, going on Girl Guide trips and working as a camp counselor. After completing teacher training at McGill University, she furthered her education with Coyote Programs' Nature Mentor Training and The Lion and the Mouse's Forest School/Playwork trainings. Coyote Programs have helped her develop a better understanding and love of nature and she believes this connection should be accessible to all. Muriel loves to sing, to ice skate outdoors and to read with her three boys. She can often be found working on a Land Art project at the neighborhood park.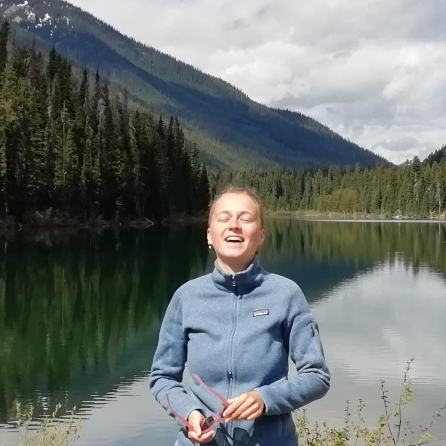 Moa Bell
Instructor
Having grown up all over Latin America and Europe, Moa has always been inspired by the diverse ecosystems around her and the way they connect to each other and humans which led her to follow her passion of nature by studying ecology in Scotland. She started fieldwork and education projects during her studies and she discovered her love of working in the outdoors with people, making her pursue a Masters of Education in Montreal. Now she is very excited to have joined the coyote community in her first year here at Tiohti:áke! You can find her exploring the cities nooks and crannies for plants and sweet salsa dancing spots (mostly outside), and, whenever she is not working on assignments, adventuring outside the city and to learn more about the native flora (and fauna too, but she likes plants a lot).
Sophie Scott
Instructor
Sophie has been an avid nature lover since a child, searching with friends in the forested slope behind her community centre for ever so precious salamanders. Growing up in Ontario, Quebec and Saskatchewan has given her a deep appreciation for the various critters, creatures and plant life that abounds these ecosystems. Having completed a B.A. in geography, worked for national conservation organizations as well as worked at a forest school in the Ottawa area, Sophie has developed a deep connection to the land that we call home and loves seeing the joy and power nature sparks in youth. You can find Sophie scouring the city searching for plants and critters, inventing stories and learning to love urban trees a little bit more.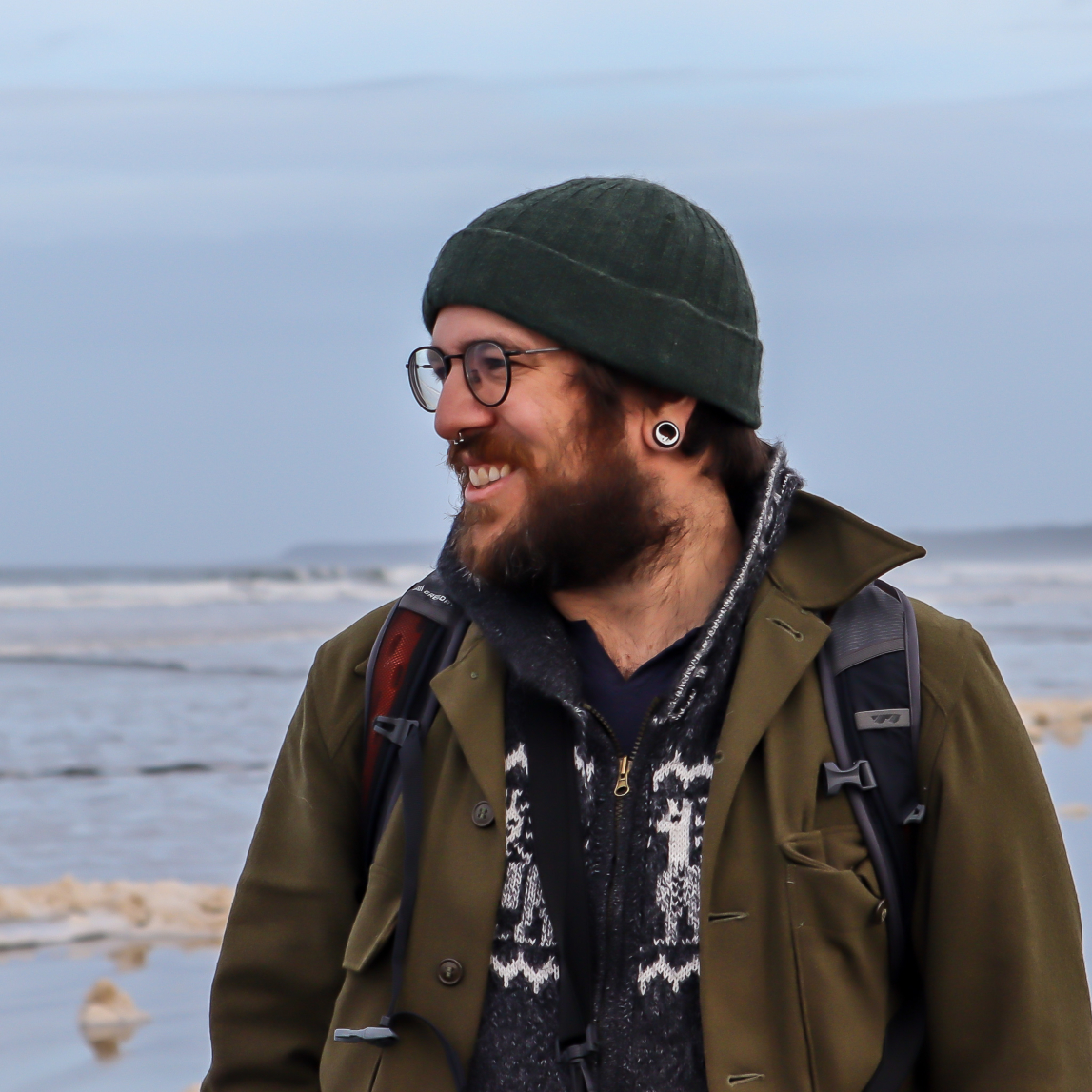 Jérémie Vienneau
Instructor
Jérémie hails from the east coast but has called Montreal home for the last 9 years. He is a passionate/aspiring naturalist, birder, nature photographer, singer, farmer, and cook. He is a graduate of our Nature Mentor Training as well as other nature connection workshops in Montreal and Vermont, which continues to inspire him to dive deeper into various means of connection. Through coursework in environmental studies at McGill and ecology at UQAM, he has continued to learn and develop an eye for the natural world and the multitude of connections that surround us. Jérémie worked in the community sector, heading the Meals-on-Wheels kitchen at Santropol Roulant where his facilitation and leadership skills developed and shined. He is currently exploring his love for ecological agriculture and goat husbandry through working and volunteering on farms in Quebec and British Columbia.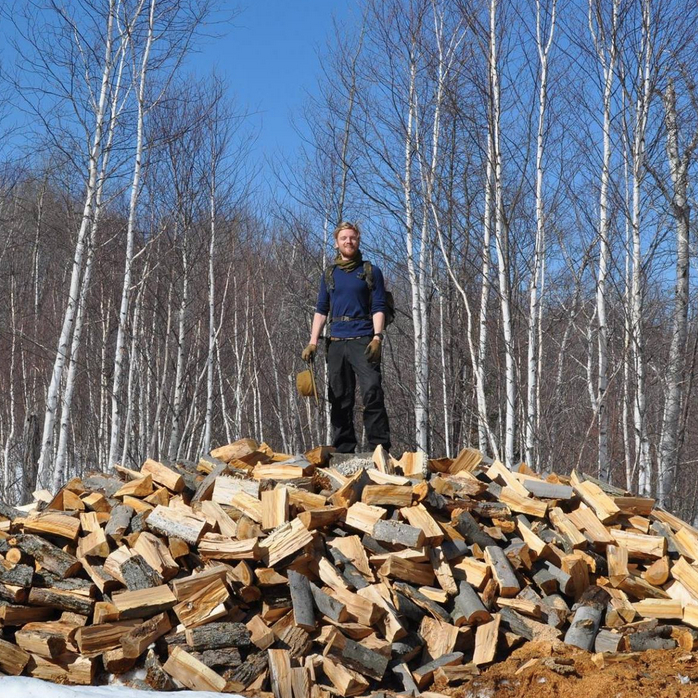 Jan Devenish
Instructor

Jan is always looking for awe and wonder in nature – however big or small. He is delighted to be working at Coyote Programs for a second time after two years leading programs for The Lion and the Mouse. He also runs his own
Woods Runners program in Mile End. He has a Forest School Practitioner qualification from the Child and Nature Alliance of Canada and is an alumni of Nature Mentor Training through Coyote Programs. He has worked with children all his adult life, from childcare to teaching in London, Paris and Montreal. He is also a father, runner, mountain climber, hunter, martial artist and has a keen interest in the outdoors and is a strong advocate of connecting children to nature and the outdoors.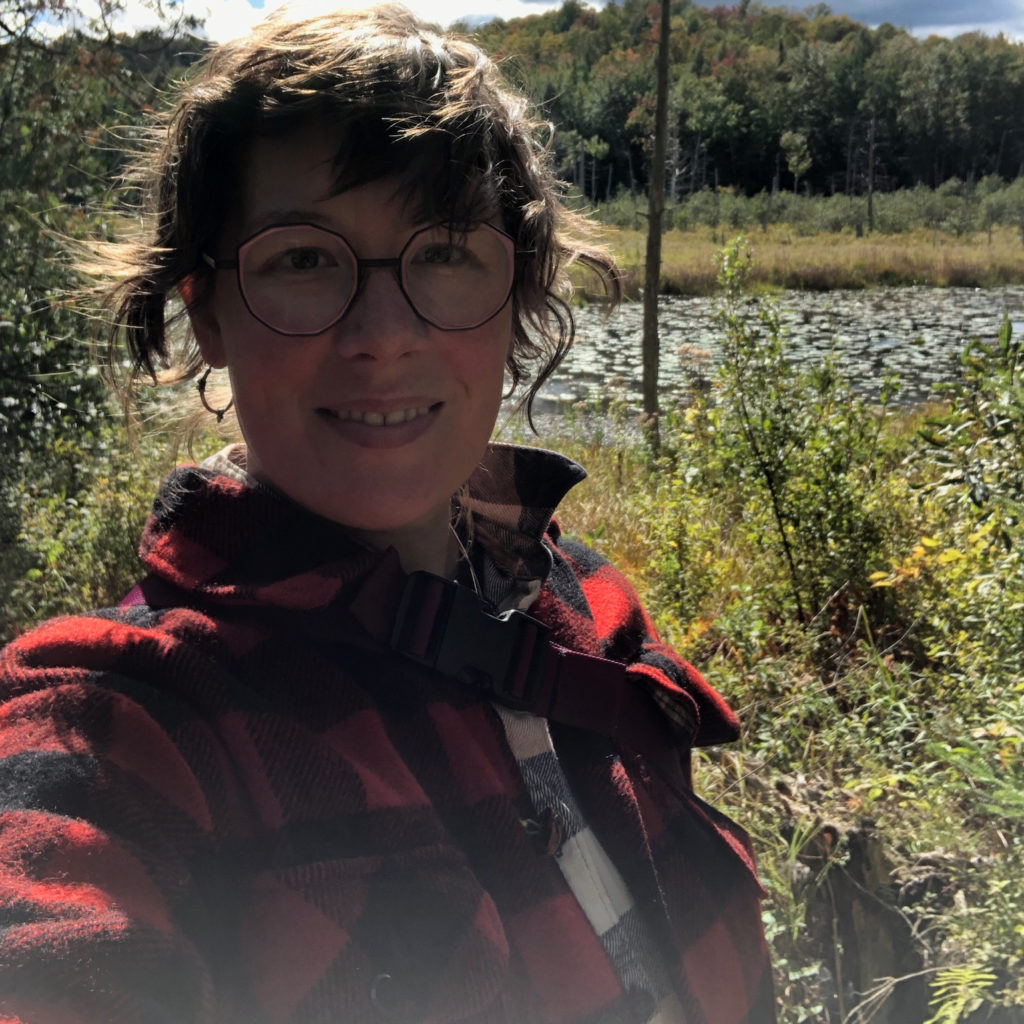 Julia Monkman
Instructor
Julia grew up in the traditional Michi Saagiig Nishnaabeg Territory (Peterborough and the Kawarthas) – hunting for spring peepers and salamanders, freezing on winter bird counts with her Dad and savouring the smell at the surface of the lake on a summer swim. Trained in biology at the University of Guelph, the forest is where she feels at home. Julia spends her time taking her three kids camping and cross-country skiing, tending to new parents as a postpartum doula, obsessing about food and cooking and making crafts from wool and fiber. The Nature Mentor Training and discovering the work of 8 Shields was instrumental in deepening her knowledge and learning clever and playful ways of sharing about the natural world.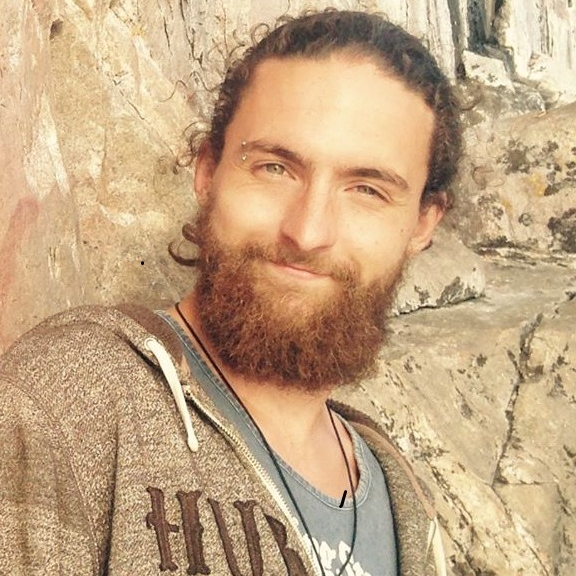 Benoit Berard
Instructor
Benoit has a Bsc in Environmental science with a specialization in Wildlife Biology. He took our Nature Mentor Training a few years ago, and after some adventuring all over Canada for a year, he ended up volunteering with the Coyote Programs when he got back. He has worked at the Fauna Foundation, a chimpanzee sanctuary, for 7 years, in the gardens as well as in animal care. He has a great love for ecology and exploring the interconnection of all things, which has fuelled his interest in permaculture, including classes on the self-fertilizing garden. He has great hope for the future because of all the awesome humans he keeps meeting, and feels that reconnecting our youth with Nature is an essential ingredient for creating strong leaders who are resourceful, resilient and happy humans.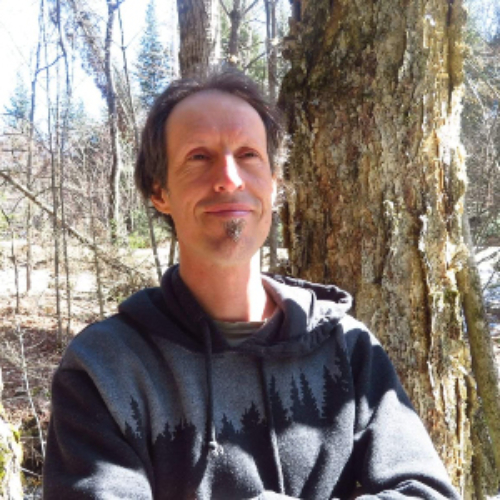 Patrick Gravel
Instructor
Patrick Gravel is an ecologist, botanist, trapper, tracker, crafter, storyteller. He is well versed in plants: the edible, medicinal and crafting kinds. Having spent many long-term experiences in the wilderness, he is passionnate about ancestral knowledges and their practice. He has been teaching and sharing his knowledge of nature for almost 20 years.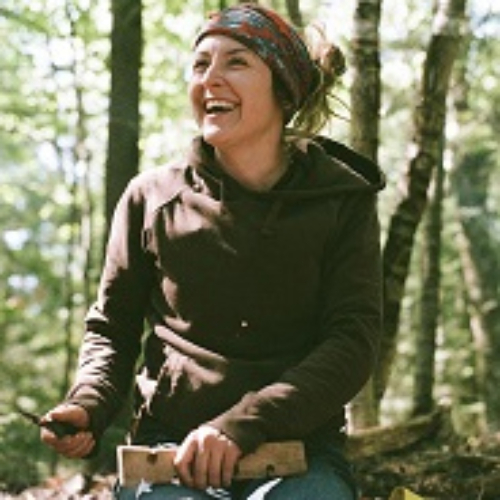 Alice Roy-Bolduc
Instructor
Driven by curiosity and love of the natural world, Alice studied plants and mushrooms for a big part of her life. Her thesis looked into the soil fungal communities of sand dunes at the Magdalen Islands, trying to shed light onto microscopic but crucial ecological interactions. Avid wilderness explorer, she spends as much time as possible in the outdoors. She hikes, rock climbs and bikes a lot, but her favorite activities are slow contemplative walks, harvesting  wild edibles, camping out and cooking on the fire. Involved for a few years in outdoor education and adventure guiding, she smiles a lot and loves to share her passion with people, whether it is about trees, lichens, food or gardening.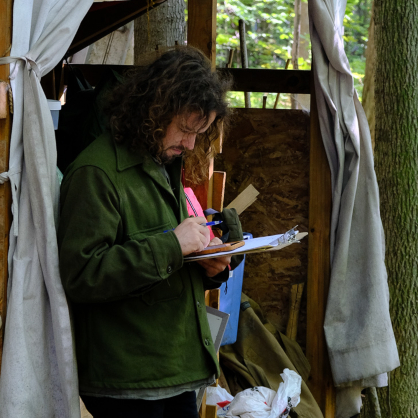 Hubert Gonthier-Blouin
Administrative Coordinator

Hubert handles the background of Coyote Programs so that the foreground activities may take place seamlessly. He studied music, philosophy and translation and has travelled extensively. All of which have fuelled his personality and his take on life. His interest in survival skills and nature was ignited at Victor Wooten's Center for Music and Nature. This experience is the main reason why he is now part of Coyote Programs. His passion for music seeps in every area of his life. Indeed, he sees himself as the groove regulator who holds the rhythm so that the rest of the team may shine.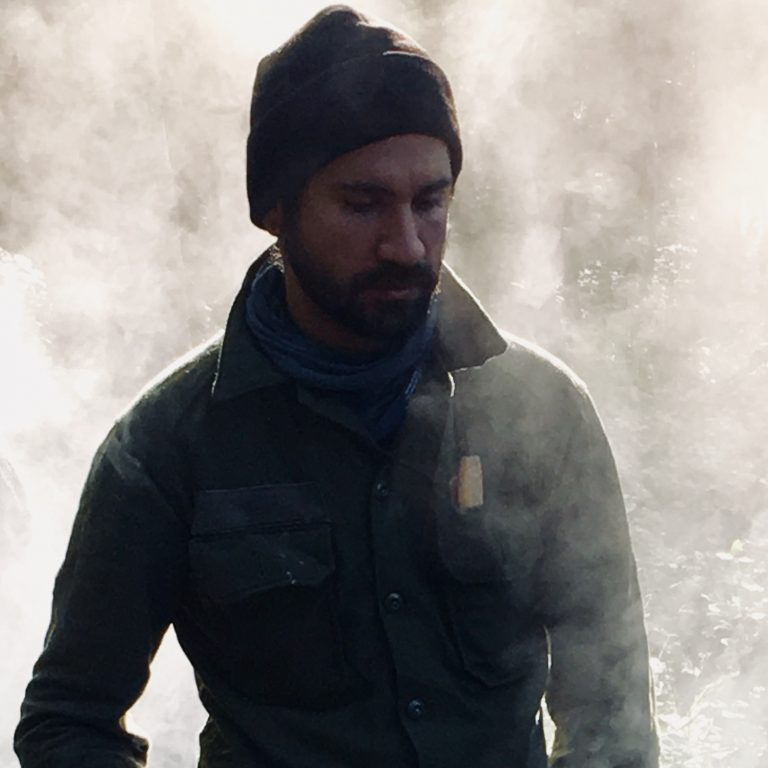 Arndell leblanc
Instructor
Arndell is originally from Les Iles de la Madelaine where summers are spent exploring caves, diving into crashing waves and long nights spent stargazing. Adventures found him sleeping outdoors from mountain tops to deep jungles. Trained as a Journalist at Concordia University, he has spent most of his career working for Doctors Without Borders but he also works to train humanitarians on how to work within conflict zones. He thrives in navigating moments of chaos. Spare time is spent in the woods or on the water: guiding, coaching and being a medic but most likely he is to be found with a cup of tea in hand or diving into a river. The North Star Program and Nature Mentor Training were instrumental in his journey into instruction as well as additional mentoring from Coyote Programs staff. He is also a student of Karamat Wilderness Ways. If you want to nerd out with him some topics include: teas, backpacks or Mors Kochanski.