Join us this summer for a week of nature adventures, wilderness skills, games and challenges to grow our awareness and connection of the wild world. Youth between 4 – 12 years old will learn about plants, mammals, tracking, birds, and survival skills. These lessons are presented in ways that nurture common sense, problem-solving, community and team building, authentic communication, gratitude, reverence for the natural world and respect. Our ratio is 1(+1):6 (one adult plus one teen assistant for six youth).
Our mornings will begin with welcome stations that include higher-energy games and a nature museum with field guides, feathers, and plaster casts of animal tracks to explore. Once everyone has arrived we have an opening circle and share a story to frame the day. Then campers break into age-specific groups, where they will spend the day wandering, crafting, doing activities related to the theme of the day, or engaging with whatever magic and mystery the forest provides, to end with a final closing circle to share stories of the day.
This program is available for youth between 4 – 12 years old.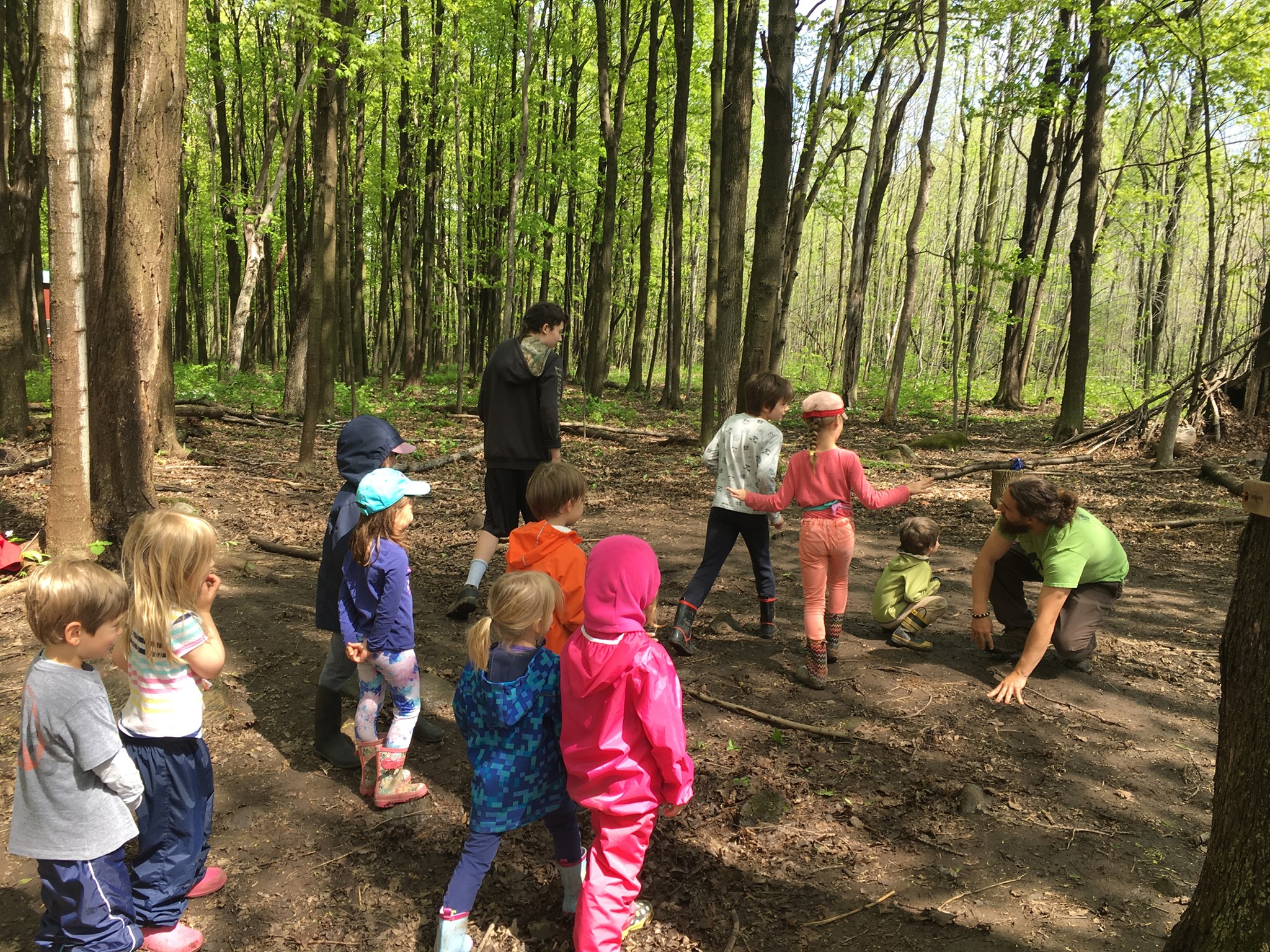 LOCATION:
Angrignon Park
SCHEDULE:
From Monday to Friday, 9am to 3pm.
PRICE:

$275 (+ tax) per week
$25 (+ tax): before-care (8:30-9am)
$35 (+ tax): after-care (3-4pm)
Signing up for more then one week is not a problem!
Our activities vary enough from week to week to keep it interesting. Children will often take on a project (like making a basket, or practicing friction fires) and continue working on it for more than one week of camp. We pay special attention to youth who are returning so that they are always engaged.
Week 1: From June 29th to July 3rd
Week 2: From July 6th to July 10th
Week 3: From July 13th to July 17th
Week 4: From July 20th to July 24th
Week 5: From July 27th to July 31st ***
Please note that the week 5 of our Summer Camps will be a Music and Dance Nature Camp for 7 to 12 years old.
Click here for more info!
Click here to register!
*** Please note that all our activities are adapted to be in complete accordance with the By-law concerning parks under the jurisdiction of the city council of the city of Montréal. We invite you to learn the rules specific to the Montreal parks you like to spend time in with your family. Following these by-laws we will all be doing our part to support the ecological health and safety of our precious wild spaces. ***