Steve Leckman – Director, instructor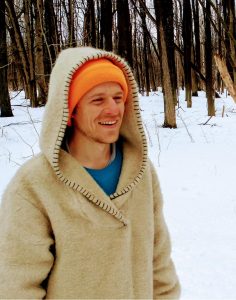 Steve finds a lot of hope from the magic of connecting deeply with the natural world in community. He has studied at the TrackerSchool, Past Skills, McGill University, and was an apprentice at the Wilderness Awareness School. He is an accomplished wildlife tracker and passionate earth skills practitioner. He has guided canoe expeditions and wilderness excursions for many years. He has been coordinating and leading nature connection and mentoring programs in the Montreal area for the last 6 years. You might catch him sitting in his backyard listening to birds, tending the garden and bees, breaking rocks for stone tools, crafting bows and arrows in his garage, beat-boxing or pretending to be a raccoon.
Stefanie Dimitrovas – Administrator, instructor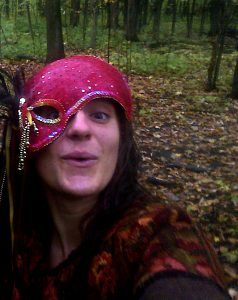 Stefanie is an enthusiastic, creative human that loves to sing, dance, play, craft, and marvel with others in the out-of-doors. She has worked as an artistic / cultural director with the p.i.n.e. Project in Toronto for the past several years, as a youth program mentor at the Ontario Art of Mentoring, and as a multi-purpose coordinator at the Concordia Greenhouse. She graduated with honor from Concordia University with a BSc in Environmental Science, and is particularly passionate about birds, plants, wood crafts and feminism. She believes that it can only be through the heart that future generations will come into a role of stewardship of, and not dominion over, the natural world.
Kawisente McGregor – Kahnawake site director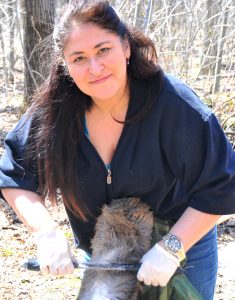 Her Kanien'kehá:ka (People of the Spark or Flint) name is Kawisente, meaning 'Icicle Melting'. She has been a long-time supporter of nature connection programs on the native reserve she calls home, Kahnawake (meaning – by the rapids). A mother of two and an avid supporter of social and native justice issues, she always finds time to go where she's most needed to lend her voice. She is the site director for Coyote Programs' camp in Kahnawake, and a regular visitor to the youth and adult programs. Kawisente is always happy to share stories and information about her culture both during and out of program time, and she is always open to learning about other cultures as well. She does this with a deep sincerity and wicked sense of humor that keeps our team and participants on our toes.