---
Do you like spending time outdoors and want to learn how to do so in a more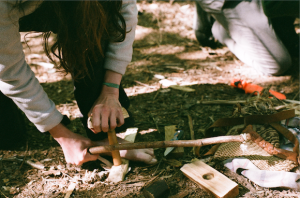 confident and safe manner? Connecting with the outdoors is a beautiful life long journey. No matter your sport, bushcraft or leisure of choice, in the outdoors there are fundamental skills needed in order to ensure your safety and enjoyment. North Star is geared to teach you the fundamentals of survival in the outdoors. From modern camping to surviving using foraged materials, North Star will help you learn skills to build a strong foundation towards being comfortable in the outdoors regardless of the weather.
This bi-monthly program offers adults a chance to develop and hone their wilderness living skills. Instruction will be tailored around participants' experience, abilities and interests. North Star will help you in getting comfortable with fire lighting methods, finding and purifying water, tool usage, clothing use, tarps and shelters. In North Star you will learn the fundamental theories of survival and rescue which can be applied to most all natural or man made disasters. You will have tons of dirt time to hone
your wilderness skills.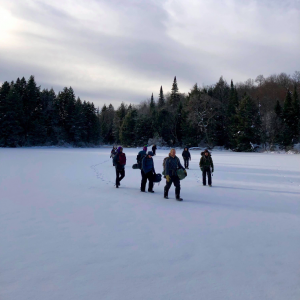 If you are new to camping and overnighting in the outdoors, this program is designed to be a welcoming community initiation into these skill sets. People of all backgrounds and identities are welcome.
The program will end with a two night immersion experience in a wilderness area (1.5 hours from Montreal) where we will put our skills to the test, together and in a safe environment. Various teaching methods will be used such as experiential, self learning, song, didactic, collaborative and a lot of dirt time.
Note that there are three workshop sessions which will have a limited number of (additional) spaces open to the public to attend.
---
Some of the topics covered:
Fire

Fundamentals to how to start in adverse conditions

Fire lays, starting methods and friction fires

Shelters, tarps, knots and beds

Wild plants:

Edible, medicinal plants and plants used as tools

Water

Survival Tools

Knife, saw, and axe skills

Making your own tools from the land

Survival Mindsets

Sensory awareness skills

Being comfortable in the outdoors

Clothing

The art of staying warm in any weather

Community building

…And much more
---
Teachers:
Arndell LeBlanc, Kawisente McGregor, David McComber, community members as well as special guest instructors.
Location:
Kawisente's backyard in Kahnawake and a wilderness site for the final trip
Schedule:
The program will take place on the following days from 10am to 4pm:
March 12th: Theory and Fundamentals
March 26th: Fire (Workshop)
April 9th: ToolCraft, Bushcraft and FieldCraft
April 30th: Survival Shelters (Workshop)
May 14th: Edible, Medicinal and plants as tools (Workshop)

May 28th: Skill honing ( Adapted Skill day based on group needs )
June 3rd to 5th: Expedition ( Offsite )
Price:

$600 + tx
Get ready to get your hands dirty! We want this to be a precious and unforgettable experience. Having routine time to "skill it up" with others can really root these skills and connections deeply in all of us.
If you have already completed North Star, we invite you to take the challenge further and try North Star – level 2! Click here to learn more!
A welcome package will be sent a week before the first day of the program with specific details.
.
---
Contact us if you have any questions or comments at: programmescoyote.office@gmail.com