"A long, long time ago, maybe two hundred thousand years ago, and in a few places still today, the native people who lived off their land schooled their children, but they did it invisibly. Our ancestors' children didn't go to school. School surrounded them. Nature was a living teacher. There were many relatives for every child and every relative was a mentor. Stories filled the air and ceremonies of gratitude filled mundane lives. Wouldn't it brighten our horizons to see more of this kind of teaching in our suburbs and cities today?" – Ellen Haas
This is an experiential study of the 'Art of Mentoring' curriculum, a model of education and connection that is inspired by the practices of traditional peoples around the world and presents a toolkit for rebuilding a connected culture in our modern world. It presents a model for cultivating the unique genius in individuals and for growing regenerative cultural practices that connect us deeply to life. For more on the 'Art of Mentoring' www.8shields.org , or get your hands on a copy of Coyote's Guide to Connecting with Nature.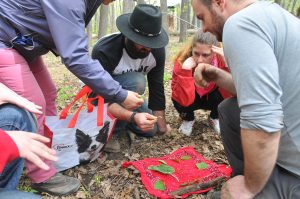 Some of the practices and skills we will be exploring include:
– animal tracking
– listening for bird language
– the art of questioning
– storytelling
– deep listening
– survival skills
– tending wild plants
– cultural mentoring
– mapping
– opening the senses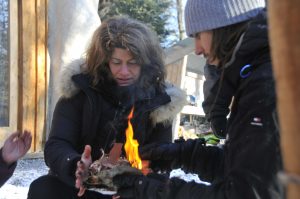 – solo time in nature
– songs
– honoring gifts in ourselves and others
– rites of passage
The qualities that these practices develop and what we look for to measure the progress of our work include: quiet mind, common sense, vitality, commitment, tending the landscape, a sense of service to community, reverence for life, self sufficiency and ultimately – being a powerful and connected leader.
SCHEDULE AND LOCATIONS
Twice per month, 9am – 3pm, and a weekend retreat in June
The 2nd weekend of every month is a weekend focused on a particular subject and is also open to the public.
– Saturday, February 9th – Kahnawake
– February 23rd and 24th – Tracking at Anse-à-l'Orme Nature Park
– Saturday, March 9th – Kahnawake
– March 30th to 31st – Weekend survival program with Les Primitifs in Kahnawake – includes an overnight camp-out!
– Saturday, April 13th – Kahnawake
– April 27th and 28th – Bird Language in Saint-Cuthbert with Les Primitifs
– Saturday, May 11th – Kahnawake
– May 25th and 26th – Wild Clay Workshop in Kahnawake ** exceptionally 11am-5pm
– June 7th, 8th and 9th – Weekend retreat, location to be determined
To see descriptions of the skills workshops, click here.
COST
$700 (plus tax)
For information on financial assistance, click here.
REGISTRATION
(max. 12 participants)
To secure your spot in a program you must do 2 things:
1. Fill in a registration form HERE
2. Pay at least a deposit of 50%, by paypal (see below) or by mailing a cheque (including taxes of 14.975%) to:
Programmes Coyote
4553 ave Draper
Montreal, Quebec
H4A 2P5
** For installments: Payment in full is due at the latest by the 1st day of the program. 
Lastly: we will send a welcome email one week before the first day with all the details you will need for participation (e.g. directions, gear list, preparation if needed..)
TESTIMONIALS
NMT enriched the way I play outdoors with my children. It gave me the confidence I needed to go outdoors more regularly with children, as a teacher, parent or neighbor. The program taught me how to have fun at the park in any weather, and now I can more easily transmit that enthusiasm to kids! Most importantly, I now notice nature everywhere (even in the city!) and how youth are very interested in learning more…but not necessarily from a textbook.
– Muriel Bontemps, mother and teacher
"Last year I had an amazing time completing the Nature Mentor Training with Coyote Programs. It was an adventurous and joyful community experience. I have always felt deeply connected to the natural world, and through this program, the scope of my knowledge deepened. I learned to identify plants, and was challenged in adapting to different weather conditions. Building a stronger connection with the natural world has had a tremendously positive impact on my mental health and well-being. As I learn about the many living things around me, and better understand my connection to them, I feel increasingly less isolated. If you're looking for an extra push or motivation to get outdoors, and to challenge yourself, I can't recommend Coyote Programs highly enough!"
– Participant, 2016