"Whoever you are, no matter how lonely, the world offers itself to your imagination, calls to you like the wild geese, harsh and exciting – over and over announcing your place in the family of things." — Mary Oliver, Wild Geese"
There are no Family Campouts planned for 2022 yet!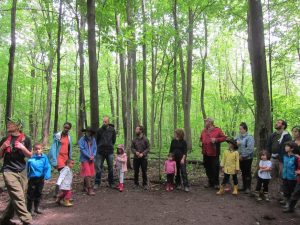 This weekend is a program designed for families to have an inspiring camping trip where they dive into some wilderness living arts. We'll do our regular community practices (stories and games) and also have extended time in small groups to develop our skills. We will have choice based activities for the Saturday where we will split the group into three and spend some focused time on particular subjects. Our staff will offer focused activities on: harvesting and working with clay, willow baskets, and a survival skills option.
The camping conditions will be rustic! We will be cooking over a fire and we will be using a composting toilet. Bring your own camping materials, food and water. We will be parking some 250m from where we will be camping, so be prepared to hike in your gear.
Peter Parsons, our inhouse wild chef, is coming to share some food on Saturday to complement your diner (quantities of his offering will be limited):
– Minestrella-Stew of Many Greens
– Cornmeal Griddle Cakes
– Clay Baked Chicken Stuffed with Cedar and Pine
– Wild Mushroom Ragout with Truffle Butter
Dates and location:
These activities will be held on a friends' private property in Papineauville, 7 minutes from Montebello.
Arrive as of 4pm on the Friday, choice based activities will begin around 9:30am on Saturday, if you want to arrive then. We will close our activities and have our camp taken down by 2:00 pm on Sunday.
Program Cost:



You can choose between these 3 prices (sliding scale):
– 150$ +tx
– 200$ +tx
– 250$ +tx
*** The price is per family
200$ is the true cost. 250$ is the cost that helps us support other participants (in this program or others). 150$ is the reduced cost.
Financial assistance available here.
We will be welcoming a maximum of 12 families to each program. So we invite you to sign up quickly! We recommend that you bring your child if they are able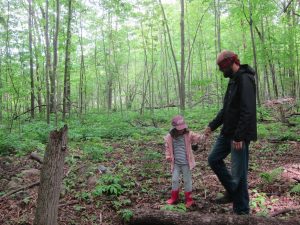 to camp comfortably, spend the day being outside and exploring nature. We have found that children of 6 years old and up are generally fit for the task!
A welcome email telling you about the meeting point and preparation will be sent to you at least 1 week before the program starts.
Click here to register!
---
Contact us if you have any questions or comments at: programmescoyote.office@gmail.com