Join us this summer for a week of nature adventures, wilderness skills, games and challenges to grow our awareness and connection of the wild world. Youth between 5 – 13 years old will learn about plants, mammals, tracking, birds, and survival skills. These lessons are presented in ways that nurture common sense, problem-solving, community and team building, authentic communication, gratitude, reverence for the natural world and respect.

Our mornings will begin with welcome stations that include higher-energy games and a nature museum with field guides, feathers, and plaster casts of animal tracks to explore. Once everyone has arrived we will host an opening circle and share a story to frame the day. Then campers break into age-specific groups, where they will spend the day wandering, crafting, doing activities related to the theme of the day, or engaging with whatever magic and mystery the forest provides, to end with a final closing circle to share stories of the day.
Older children (9 to 13 years old) who have already participated in our regular summer camps at least once and are looking for more can register to the Advanced Camp! This camp includes themes such as: Forest Jedi, Artisan and Nature Detectives! For more info, click on this link to the registration page. We highly recommend that kids who are coming with past experience at Grand Potager camps to do a week of the regular Angrignon camp before going to the Advanced camps.

Forest Jedi:
Moving silently in the forest, blending into the natural surroundings, Forest Jedi learn to hear and see much more wildlife than most.Through games, various practises and exciting scenarios, these young Jedi will grow their dexterity, senses and awareness, learn the secrets of stealth and movement while developing the spirit of the protector.
Artisan Camp:
It's time to cultivate our inner beavers and get busy with some crafts! To envision something and then to make it with our own two hands is an essential and empowering human ability. Come skill and chill at this inspiring camp for crafty youth! Possible crafts to include: water gourde making, baskets, wood carving, cordage, pottery, sewing leather and more!
Nature Detectives:
This is for youth who are excited to dive into local ecology, who like to solve mysteries and play awesome nature games. Forest Detectives are trackers who know the forest like the back of their hand. They can see the landscape as an endless story book of adventures. We'll play games to learn about species, take time to study tracks, plants and birds, and follow some exciting mysteries to their conclusions!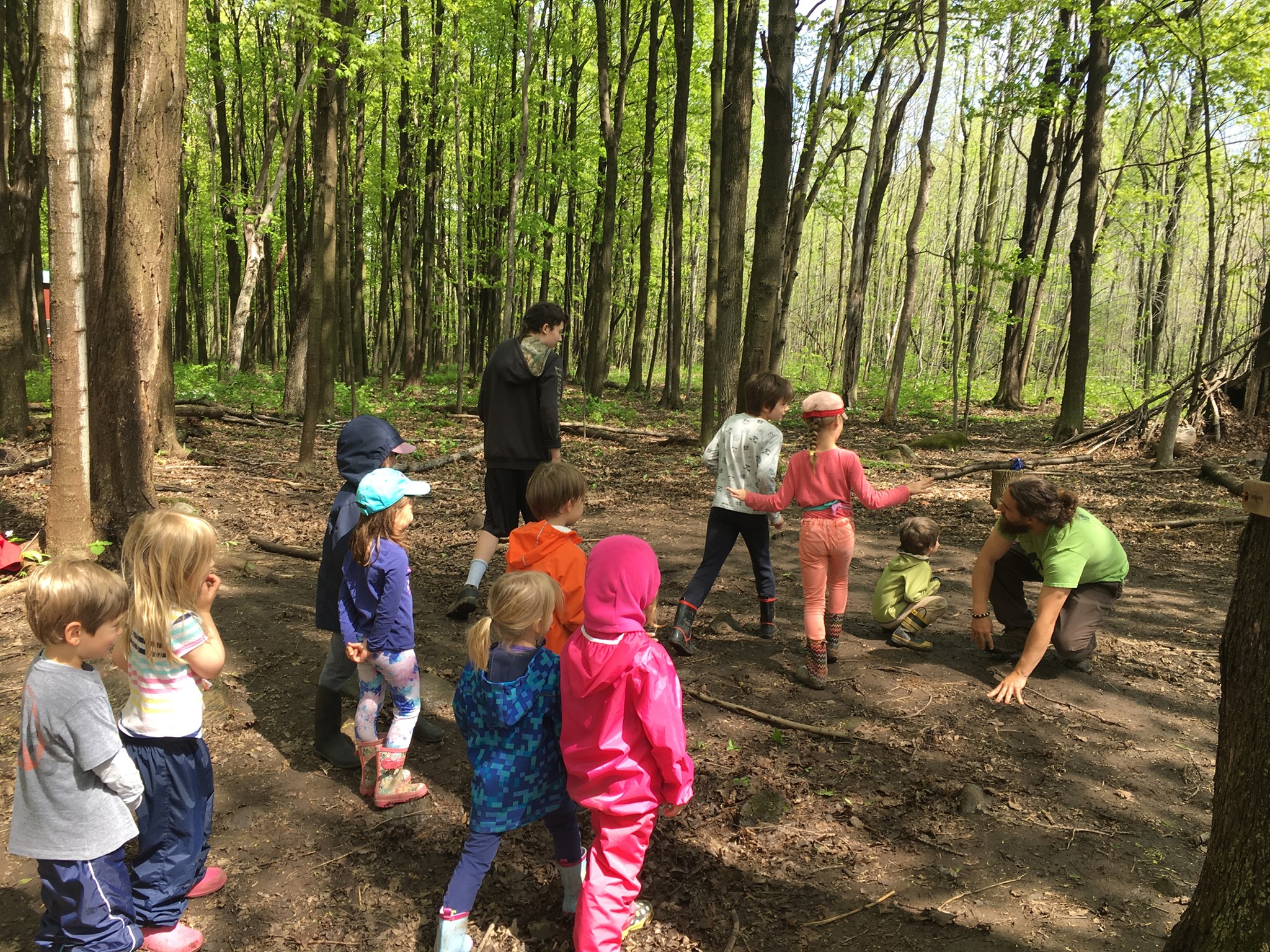 Location:



For 5 to 9 years old, camps will take place at Le Grand Potager.

For 9 to 13 years old, camp will take place at Angrignon Park, Montréal.
Schedule:



From Monday to Friday, 9am to 3pm.
Week 1: From June 27th to July 1st
Week 2: From July 4th to July 8th
Week 3: From July 11th to July 15th
*** Please note that there will be no summer camp on the week of July 18th
Week 4: From July 25th to July 29th
Week 5: From August 1st to August 5th
Week 6: From August 8th to August 12th
Price:



$355 (+ tax) per week
$25 (+ tax): before-care (8:30-9am)
$35 (+ tax): after-care (3-4pm)
All of this and more will be sent in our Welcome Package (which you will be asked to read the thoroughly, 1 week before camps begin.
---
FAQ
Can my child do several weeks of your regular camps?
Absolutely! We change up our morning stories, the activities are plentiful and fun to repeat, we lookout for returning campers to keep it engaging for them. We give them extra challenges, and nature is always offering new mysteries and opportunities for us all.

When can my child attend an advanced camp?
After they have completed at least one week of our regular camps this year or in a past year, they are eligible for an advanced camp.
What is your staff to camper ratio?
We strive to have a small ratio so as to give the participants more personalized attention. Our camps generally run at 1 staff to 6 kids, we often have teen assistants or secondary staff, and a camp director.
What is your cancellation policy?

.

As long as the cancellation is made 14 days before the start of camp: the family will receive a full refund, minus a $50administration fee per camp week per person.
Less than 14 days, and a cancellation will not be refunded. The only exception will be if a family is adversely impacted by COVID-19, they will receive a full refund, minus a 50$ administration fee per camp week per participant.
Are there any changes because of COVID-19?
We will be following guidelines put out by the Association des camps du Québec (ACQ) and Health Minister regarding safety protocols to ensure any potential carriers of the virus do not show up to our camps and unknowingly spread it to other campers or staff. Be aware that the standards are high and will affect the programming and normal flow of our days.
As of now these guidelines will be:
Camper groups will stay 1m away from other camper groups.

Campers in a camper group don't need to respect the 1m distance.

Campers will stay 1m away from lead staff, unless the staff is wearing a mask.
Objects will be shared minimally.

Hand washing will be frequent, as needed.
Expectations regarding conduct will be strict: campers won't be able to return to camp should they disrespect the safety rules
If a camper (or staff) shows up with any signs of illness, they will be asked to stay home.
Since the COVID-19 pandemic began, we ran 2 seasons of summer camps and had ZERO cases. Our camps have a small ratio, and are fully outdoors to begin with – this is our expertise. We are therefore confident that we are in a good place to support families and youth in this time of need. Even given the limitations, we know that our creative staff, our diligence with safety standards, and the magic of the outdoors will provide a deeply enriching experience for your child this summer.
Are your activities in accordance to the By-law?
All our activities are adapted to be in complete accordance with the By-law concerning parks under the jurisdiction of the city council of the city of Montréal. We invite you to learn the rules specific to the Montreal parks you like to spend time in with your family. Following these by-laws we will all be doing our part to support the ecological health and safety of our precious wild spaces.

---
Contact us if you have any questions or comments at: programmescoyote.office@gmail.com