This is a custom program designed for graduates of the Nature Mentor Training and other other 8 Shields training programs, or for those with some experience with outdoor education and guiding.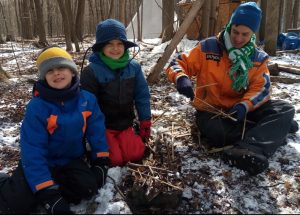 Taking it a step further from environmental education, nature connection mentoring seeks to help individuals grow as people and in community, all the while growing in connection with the more-than-human world. This program is an opportunity to be supported in at least 3 broad areas of development as a wilderness guide: becoming a better naturalist, practicing and teaching others survival and / or earth-based skills, and the art of mentoring. We will look for ways to help you express your gifts and passions, as well as ways to push your learning edges.
What you get
– 10 days of training and personalized attention to your development:
– 3 days of staff and volunteer training at the beginning of the season: Sept. 4th – 6th, 2018
– 4 apprentice training days (Sept. 22,  Oct. 20, Nov 17, Dec 8 ). This will be a time to reflect and discuss your edges and gifts as a leader, work on naturalist and wilderness skills, harvest materials for projects, and receive instruction on various mentoring techniques.
– Participate in any or all of our 3 skills workshops (Sept 29, Oct 27, Nov 24).
– Tailored missions, projects and coaching co-created with your instructor, and custom-made for both your passions and availability.
What you give
–  $300, plus tax
– Between 10 and 16 hours assisting our staff to deliver our youth programs: basically 2 program days per month, on a Saturday or Sunday
Requirements
– A valid police background check
– 18 years or older
– Bilingual in French and English
– You have participated in Nature Mentor Training or an equivalent training, or have experience as an outdoor educator or guide
** Note: All program days and apprentice training days are on weekends.
Programs you might support (follow the links below for more details on each program):
– Jays and Crows monthly program: Sept 8 , Oct 6 , Nov 3, Dec 1 + Wild Families Angrignon:  Sept 16, Oct 14, Nov 11, Dec 9
– Teen bi-monthly Program:  Sept 9, 23, Oct 7, 21, Nov 4, 18, Dec 2, (with an optional camping trip fom Dec 21 – 23).
– Peepers and bullfrogs bi-monthly program: Sept 9, 23, Oct 7, 21, Nov 4, 18, Dec 2 
– Foxes and Otters bi-monthly program: Sept 16, 30, Oct 14, 28, Nov 11, 25, Dec 9

Apply here ! Deadline is August 1st.
We will contact you for an interview soon after.

If we have established that it is a good fit, you can pay either online below or by cheque mailed to:
Programmes Coyote
4553 ave Draper
Montreal, Quebec
H4A 2P5
** For installments: Payment in full is due at the latest by the 1st day of the program.
If you need financial assistance, click here.