This is a custom program designed for graduates of the Nature Mentor Training and other other 8 Shields training programs, or for those with experience in outdoor education and guiding.
** Priority goes to graduates of our Nature Mentor Training program.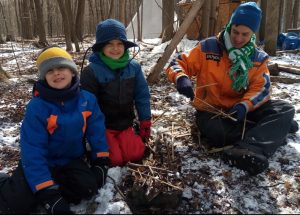 Taking it a step further from environmental education, nature connection mentoring seeks to help individuals grow as people and in community, while growing in connection with the more-than-human world. This program is an opportunity to be supported in at least 3 broad areas of development:
– becoming a better naturalist
– practicing and teaching survival and / or earth-based skills
– the art of mentoring.
We will look for ways to help you express your gifts and passions, as well as ways to expand your learning edges.
What you get
9 days of training and personalized attention to your development:

3 days of staff training at the beginning of the season: September 4th, 5th and 6h,  9am – 3pm (location tbd)
3 apprentice training days: September 14th, October 12th, and November 9th, 9am – 3pm. These are tailored to you, to reflect and discuss your learning edges and gifts as a leader, work on naturalist and wilderness skills, harvest materials for projects, and be coached on various mentoring techniques.
A weekend winter camping trip to practice your wilderness skills – evening of Friday December 13th until Sunday the 15th around 3pm. 
Participate in any or all of our 3 skills workshops this fall.

Tailored missions, projects and coaching co-created with your instructor,  custom-made for both your passions and availability.
What you give
$375, plus tax – ( 2 installments of 187.50$, plus tax)

For information on financial assistance, click 

here

.

A minimum of 2 program days per month this fall assisting our staff in our youth and / or family programs
Requirements
A valid police background check

18 years or older

Bilingual in French and English

You have participated in Nature Mentor Training or an equivalent training, or have experience as an outdoor educator or guide for youth
Programs to choose from
Follow the links below for details and dates for each program.
Note that your hours for each program include arriving on site for programs 1 hour before participants arrive (we carpool for Kahnawake programs) and staying for a maximum of 1 hour after they leave to clean up and debrief with the team.

Deadline to apply is August 23rd.
We will contact you for an interview soon after.
Maximum participants: 5
** Note that to secure your application you will need to pay a 50% deposit, and if it is decided to be a good fit then you will pay the second half. If it is not you will be promptly reimbursed.