''We learned to be patient observers like the owl. We learned cleverness from the crow, and courage from the jay, who will attack an owl ten times its size to drive it of its territory. But above all of them ranked the chickadee because of its indomitable spirit. '' – Tom Brown Jr.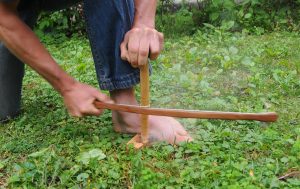 This program offers adults a chance develop and hone their wilderness living skills. Our guiding north star is the vision of total freedom to walk into the wilderness with nothing but the clothing on our backs, and thrive.
Participants will be profiled through a short questionnaire after registration for the staff to tailor instruction around their experience, passions, abilities and interests. If it's getting comfortable with starting a basic match fire, carving skills, setting up tarps and shelters, or if it's crafting a friction fire kit that you can use gracefully, or developing confidence in the art of safely gathering sufficient calories from the wilderness – this program is for you.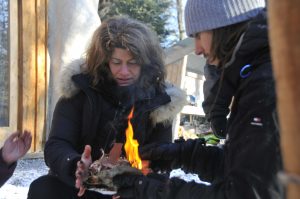 Often times, these skills aren't made accessible to people because they are either considered 'for men', can be confusing or expensive to get acquainted with, or can seem intimidating. If you are new to camping and living outdoors, this program will be a deeply satisfying initiation into these skill sets.
Going deep with these skills can be a surprisingly rich experience. Our instructors put these skills into practice in their daily lives and have put a lot of dirt time into honoring these ancient and profound arts.
The program will end with a two-night immersion experience in a nearby wilderness area where we will put our skills to the test.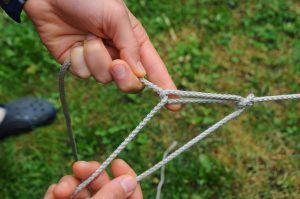 Topics will likely include:
– Shelter – natural shelters, tarp and knot skills..
– Fire – structures, kinds of fire, fire by friction..
– Intro to wilderness first aid
– Edible and medicinal plants
– Sensory awareness skills
– Traditional survival tools
– The art of staying warm in any weather
– Teamwork !
– … And much more
Get ready to get your hands dirty! We want this to be a precious and unforgettable experience. Having routine time to "skill it up" with others can really root these skills and connections deeply in all of us.
LOCATION
Kawisente McGregor's beautiful backyard forest in Kahnawake.
** Location of weekend retreat still to be determined. Will be within a two-hour drive of Montreal.
SCHEDULE
Two Saturdays per month, 9am – 3pm, and a weekend retreat in December.
Fall 2018
North star only: Sept 15th
Workshop open to public: Sept 29th – Fall Harvests of wild foods
North Star only: Oct 13th
Workshop open to public: Oct 27th – Shelter skills
North Star only: Nov 10th
Workshop open to public: Nov 24th – Fire making skills
North Star trip: Dec 14th, 15th, 16th
Sign ups closed for fall 2018.