This program is
NOT
running during the Fall 2021 season.
"Whoever you are, no matter how lonely, the world offers itself to your imagination, calls to you like the wild geese, harsh and exciting – over and over announcing your place in the family of things." — Mary Oliver, Wild Geese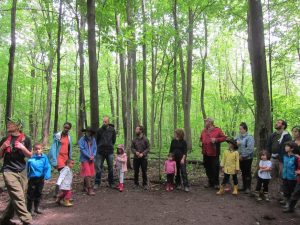 This is an opportunity for families who wish they had a bit more time in nature on the Island of Montréal.
Through games, songs, storytelling, bush-crafts and challenges, we will inspire and help connect your family to the seasons and wonders of the natural world. Come prepared with weather-appropriate clothing, lunch and snacks, and a playful and curious spirit!
The mornings will consist of song, gratitude, some getting-to-know-you games with the families, and some big group teaching games or experiences. In the afternoon there will be choice based groups that people can choose from- always something more active and out in the forest, and at least one other option of something more mellow and low key such as crafting or more naturalist type studies. Our goal this season is to propose longer term crafts on the first day that can be revisited every month such as: fire skills, basket making, carving skills, leather-work or other inspiring projects.
We will explore different themes and nature skills throughout the year such as:
Animal tracking
Plant and tree identification
Bird language
Survival skills
Songs
Moments of gratitude
Sensory awareness practices
* Children 3 years old and under come for free! However, if your toddler is not used to being outdoors for a full day in any weather, consider inquiring about coming for only part of the day, or come prepared with extra warm clothes and some pro-activity to help them engage.
A welcome email telling you about the meeting point and preparation will be sent to you at least 1 week before the program starts.
---
Contact us if you have any questions or comments at: programmescoyote.office@gmail.com