'Education is not the filling of a pail, but the lighting of a fire.'  – W.B. Yeats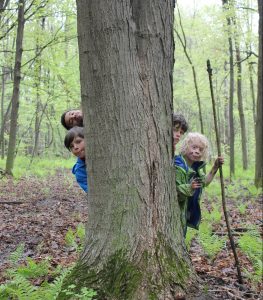 This program is an opportunity for kids to have regular immersion into the natural world, into intentional community living, and in skills and adventures that will deepen their connections with the life around them. Immersed in our cultural mentoring model, we will find home in the wilds of Montreal, in community, and in our hearts and visions.
Some of the culture-building routines that we want to practice include:
– Sharing sincere gratitude
– Storytelling
– Setting goals in community
– Setting peace-keeping community agreements
– Opening and using all of our senses
– Practicing being quiet and observant in the forest
– Making music together
– Following our passions to the lessons they will lead us to!
Some of the activities we want to sink our teeth into include:
– Friction fires
– Finding the tracks and signs of wildlife
– Learning how to listen for the language of birds
– Practicing being sneaky and camouflaged like animals
– Learning about and using edible and medicinal plants (and how to avoiding the dangerous ones!)
– Mapping the land
– Crafts with natural materials such as basket-making
– Tarp and knot skills
– Navigation and lost-proofing
– Natural shelter building
– Playing awesome games inspired by nature
– … and much more!
This program is for ages 7-13, with the foxes at ages  7 to 9 and otters at ages 10 – 13.  We start and end the day all together, and we invite the kids to split into their packs age groups for the day.
LOCATION
Kawisente McGregor's beautiful backyard forest in Kahnawake.
SCHEDULE: Winter / Spring 2018
8 Sundays over 4 months, from 10am – 3pm
February 4th and 18th
March 4th and 18th
April 15th and 29th
May 13th and 27th

COST (tax included)
$370
If you need financial assistance, click here.
REGISTRATION
To secure your spot in a program you must do 2 things:
1. Fill in a registration form by clicking HERE
2. Pay at least a deposit of 50%, by paypal (see below) or by mailing a cheque to:
Programmes Coyote
4553 ave Draper
Montreal, Quebec
H4A 2P5
** For deposits: Payment in full is due at the latest by the 1st day of the program. 
Lastly: we will send a welcome email one week before the first day with all the details you will need for participation (e.g. directions, gear list, preparation if needed..)