Have a craving for epic adventures?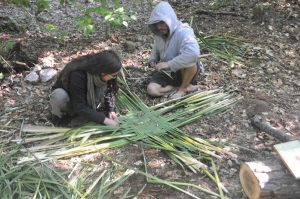 Are you ready to slip away from the city on a regular basis to learn ancient and amazing skills with a group of like-minded people?
This is a program for teens to have two full days per month immersed in nature, survival skills, naturalist knowledge, awareness challenges and intentional community practices. The goals are to nourish the skill sets of wilderness living, self-awareness and expression, as well as to nourish the call to adventure – and a call to self-actualization.
The program will end in December with an optional weekend camp-out, where we can explore a vast wilderness and practice the skills we learned together.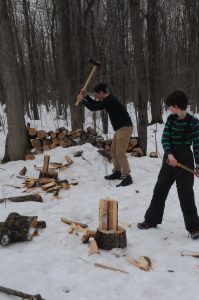 Projects and activities will depend on the passions and curiosities of the participants, but may include:
–  Skills for shelter, fire, water, and food
– Song-writing
– Drum-making
– Archery and building bows and arrows
– Wild edible and medicinal plants
– Animal tracking
– Camouflage and invisibility skills
– Learning the language of the birds
– Leather shoe-making
LOCATION
Kawisente McGregor's beautiful backyard forest in Kahnawake
SCHEDULE
8 Sundays twice per month, 10am – 3pm, ending in a weekend camp-out
Winter / Spring 2019
February 3rd, 17th
March 3rd, 17th
April 7th, 21st
May 5th, 19th
Weekend camp-out:  June 1st, 2nd, 3rd
COST
$600 (plus tax)
If you need financial assistance, click here.
REGISTRATION
To secure your spot in a program you must do 2 things:
1. Fill in a registration form by clicking HERE
2. Pay at least a deposit of 50%, by paypal (see below) or by mailing a cheque (including taxes of 14.975%) to:
Programmes Coyote
4553 Draper ave
Montreal, Quebec
H4A 2P5
** For deposits: Payment in full is due at the latest by the 1st day of the program. 
Lastly: we will send a welcome email one week before the first day with all the details you will need for participation (e.g. directions, gear list, preparation if needed..)