" Like the nails on a beasts' paws, the old tools were so much an extension of a [person]'s hand or an added appendage to [their] arm that the resulting workmanship seemed to flow directly from the body of the maker ..  " – Eric Sloan, A museum of Early American Tools
This is a series of one-off outings that are focused on one skill at a time. They run from 9am – 3pm at our site in Kahnawake. Bring a lunch, weather-appropriate clothes and materials to take notes if you so desire.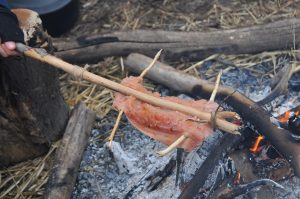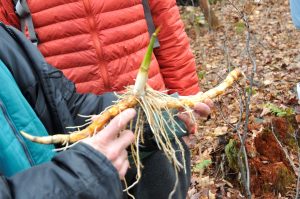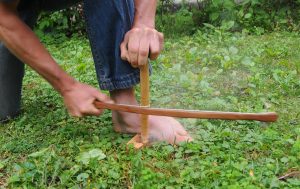 Workshops 2017:
Edible wild roots and other fall harvests- September 30th
Most plants' energy is sent down into the roots and fruits during the fall for storage and hibernation, so fall is a great time to get acquainted with some amazing wild edibles. Many are familiar with leafy greens, and neglect the dirty and calorie-rich roots of a lot of wild foods. We'll spend the day exploring local foods and medicines, and prepare a meal to share. Yum!
Wild water purification- October 28th 
Being made of around 70% water, we should probably get acquainted with what it takes to consume healthy water! We'll spend the day exploring several water purification skills ranging from emergency low-tech techniques to long-term camping crafts. We will also discuss the dangers and how to prevent and mitigate them.
Fire skills, for beginner and advanced- November 25th
There is nothing like the magic and inspiration of fire- bringing people together, the dance between wood, water and air, the lessons of responsibility and the history of our species, and the humbling and satisfying ability to create and control it. There is always more to learn! We want to meet you where you are at. If you are totally new to making fires from the forest in any weather conditions, or if you can make a hand drill kit from the land and light it behind your back, we want to meet you where you are at. Some skills may include: assorted friction fire techniques, using mushrooms and plants as coal extenders, types of fires, types of woods, weather considerations, fire structures, modern techniques and more.
Workshops 2018 – details coming soon
Wildlife tracking
Stone tools
Edible and medicinal plants – Spring edition
Basket making
LOCATION
Kawisente McGregor's beautiful backyard forest in Kahnawake.
COST
60$ per workshop
If you need financial assistance, click here.
What to bring
Notebook, food, weather appropriate clothes (bring more than you think you will need)
Accessibility for Parents 
Youth under the age of 14 are welcome for an additional 30$ per day. However, please be aware that you are responsible for your child at all times, and our staff will be focused on adult content. We welcome the youth and encourage them to follow along, and we ask that the space for adult learning to be respected. Contact us if you have any questions or comments. If you are interested please mention this in the comment section of your registration form, found below.
To secure your spot in the program: you must fill in both the registration here form and pay a minimum of the deposit. Payments can be done online or via cheque sent to:
Programmes Coyote
3712 Ave du Parc
Montreal, Quebec
H2X 2J1
We will confirm receipt of your cheque as soon as it arrives.