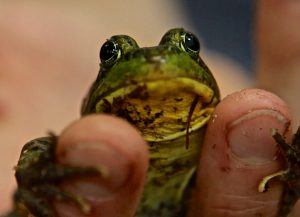 This will be our first program in the east end of Montreal! After a very successful pilot last spring we are glad to be able to offer this new and exciting program in Parc-Nature Pointe-aux-Prairies.
One half-day twice per month, our two groups of peepers (4-6 years old) and bullfrogs (7-9 years old) will be guided in an adventure full of games, group challenges, exposure to skills for living closer to the earth, and experiences to learn about co-existing with the wild woods and its inhabitants.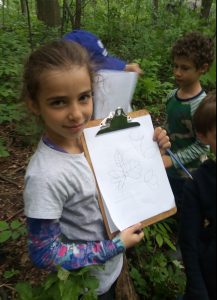 Some activities include:
– Fun, active games inspired by nature
– Sensory awareness challenges
– Investigation of the tracks and signs of animals
– Journalling about the natural world
– Learning about wild edible and medicinal plants
– Crafts using natural materials
– Storytelling and theater
– Group communication and peace-making skills
– Learning to be still and silent in observation
The youth will have the chance to build their resiliency, seek out mystery, play whole-heartedly in any weather, and to connect to the same place in the forest throughout the seasons. Staff will tailor the curriculum to the participants around their passions and personal challenges.
Parent involvement for hesitant peepers:
This program is a great opportunity to foster independence and connection to the land and a community at such a young age.
For the first two sessions parents are welcome to attend. At the beginning of our third day we will have a special moment where the child will decide themself if they are ready to participate without their parents. If the child does not feel ready, that is ok! We can try again next season, and the parents will be reimbursed a prorated amount (they will pay only for the days the child has participated).
LOCATION
Parc Nature Pointe-aux-Prairies – in Montréal's east end
SCHEDULE
Two Sundays per month. 10am – 1pm (3 hours of programming)
Fall 2018

**  Due to low enrollment we have had to cancel this season – please stay posted for the future!