A training on wilderness skills, nature knowledge and ways to share it with others.
This is an experiential study of the 'Art of Mentoring' curriculum, a model of education and connection that is inspired by the best-practices of healthy nature connected communities around the world. This program presents a toolkit for rebuilding a connected culture in our modern world. Nature Mentor Training presents a model for cultivating the unique genius in individuals and for growing regenerative cultural practices that connect us deeply to life.
Some of the practices and skills we will be exploring include:
Animal tracking
Listening for bird language
The art of questioning
Storytelling
Deep listening
Survival skills
Wild plants
Cultural mentoring
Mapping
Opening the senses
Solo time in nature
Songs
Honoring gifts in ourselves and others
Rites of passage
The qualities that these practices develop and what we look for to measure the progress of our work include:
Quiet mind
Common sense
Vitality
Commitment
Tending the landscape
A sense of service to community
Reverence for life
Self sufficiency
Being a powerful and connected leader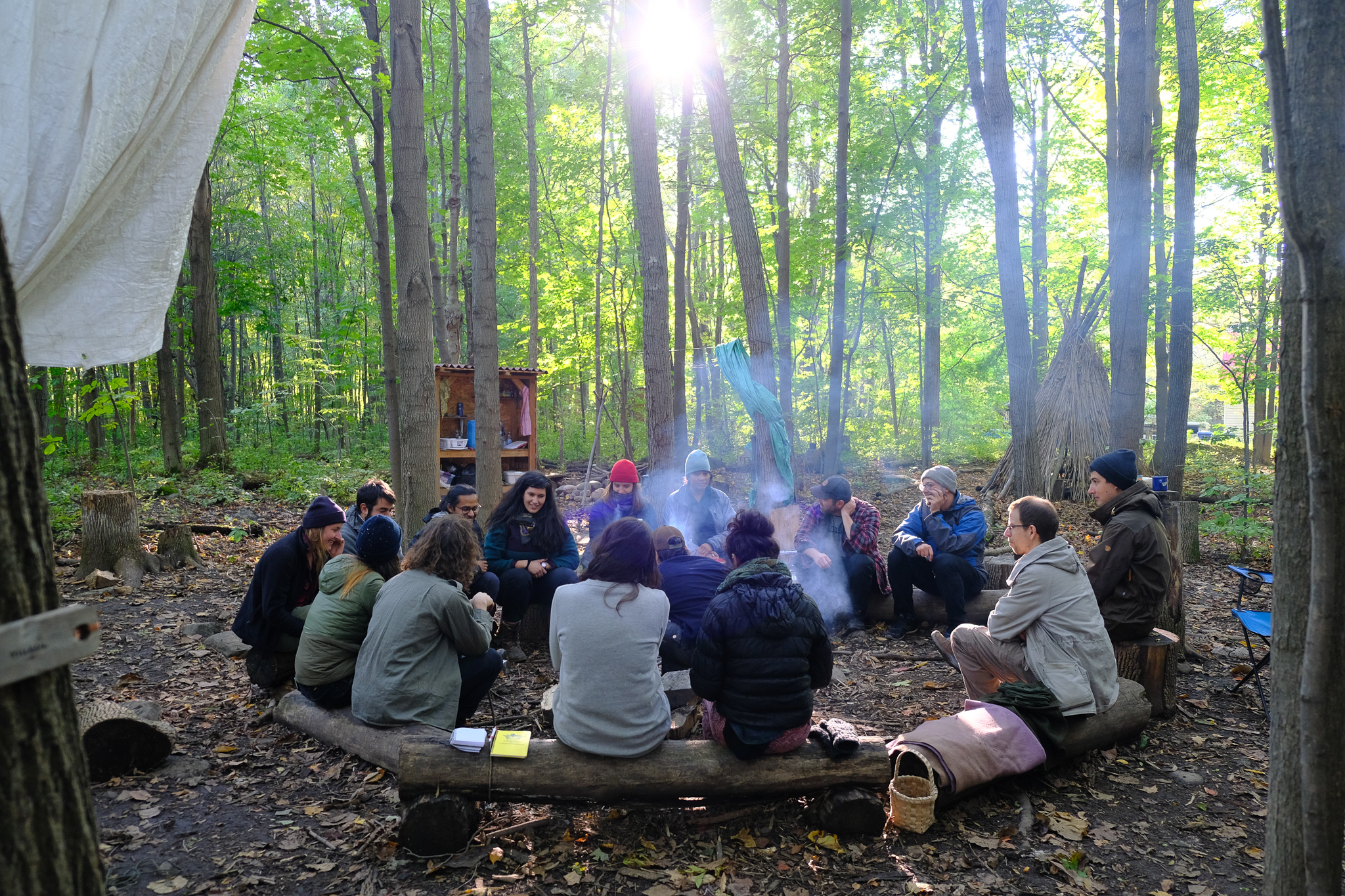 ---
Schedule & Location:
2 sessions per month
The 2nd session of the month will be open to the public and dedicated to a specific topic.
Here's the detailed schedule:
February 15th, from 10am to 4pm
February 29th & March 1st, from 10am to 4pm (both days)

Wildlife Tracking Workshop
At L'Anse-à-l'Orme Nature Park & Cap-Saint-Jacques Nature Park
Open to the public
March 14th, from 10am to 4pm
March 28th from 8:45am to March 29th at 3pm

In Saint-Cuthbert
Survival Workshop with Les Primitifs.
Camping on site
Open to the public
April 11th, from 10am to 4pm
April 25th from 8:45am to April 26th at 4pm

In Saint-Cuthbert
Bird Language Workshop Les Primitifs.
Camping on site
Open to the public
May 9th, from 10am to 4pm
May 30th & May 31st, from 10am to 4pm (both days)

In Kahnawake
Basket Making Workshop
Open to the public
June 12th from 7pm to June 14th at 2pm

Weekend camp out
At an outdoor center in the Laurentian Mountains
---
Price:
$700 plus tax

For information on financial assistance, click here.
We will send a welcome email with all the information 1 week before the program starts.
We will also send you a link to organize carpooling.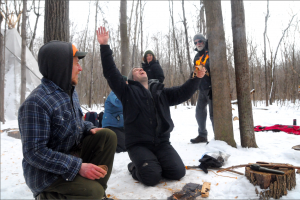 ---
Testimonials:
"Taking the Nature Mentor Training course has greatly affected the way I interact with the world around me. Learning skills such as cordage, basket weaving, tracking and friction fire has not only helped me feel more connected to the natural world, but has also inspired and empowered me to be more creative. I now have a lot more hobbies and a lot less stress. There is something very special about using what nature offers in a respectful way and turning it into something beautiful." – Benoit, participant 2017
"Calming your mind, training your awareness, staying positive when facing challenges are life skills that are timeless. They are as much a necessity today as they were 20,000 years ago. The experience I had at Coyote has greatly enriched my life and I highly recommend it to anyone."
– Faiyaz Hasan, participant 2019

"NMT enriched the way I play outdoors with my children. It gave me the confidence I needed to go outdoors more regularly with children, as a teacher, parent or neighbor. The program taught me how to have fun at the park in any weather, and now I can more easily transmit that enthusiasm to kids!"
– Muriel Bontemps, participant 2018

"Building a stronger connection with the natural world has had a tremendously positive impact on my mental health and well-being. As I learn about the many living things around me, and better understand my connection to them, I feel increasingly less isolated. If you're looking for an extra push or motivation to get outdoors, and to challenge yourself, I can't recommend Coyote Programs highly enough!"
– Anonymous participant, 2019