"Children know just how to wait: They wait by jumping up and down saying "I can't wait".. " – unknown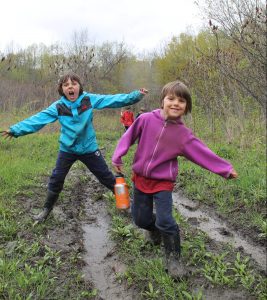 Wander and adventure with us every month! A mixture of survival skills, explorations, games, group challenges and solo time immersed in nature.
Our staff has been developing this program for several years and we are excited to take it to the next level this season. This is a chance for youth ages 7- 9 (jays) or 10 – 12 (crows) to have a regular immersion time in wild nature and in community. Jays and crows meet together for the beginning and end of the day, and the two packs are invited to have their own adventures throughout the day.
Some of the potential activities that we're excited about:
– Games inspired by nature
– Searching and researching natural treasures in the forest
– Storytelling and theater around the fire
– Emergency shelters made from forest debris
– Tarps and knot skills
– Friction fire and fire skills in all weather conditions
– Basic carving skills and knife safety
– Finding the tracks and signs of animals
– Communication and peace making skills
– … Among many others!
The youth will have the chance to test their resiliency, seek out mystery, play whole-heartedly in any weather, and to connect to the same place in the forest throughout the seasons. Staff will tailor the curriculum to the participants around their passions and personal challenges.
LOCATION
 Kawisente McGregor's beautiful backyard forest in Kahnawake
or
Cap-Saint-Jacques Nature Park
SCHEDULE
Winter / spring 2019
One Saturday per month, 9am – 3pm
February 2nd
March 2nd
April 6th
May 4th
COST
$220 (plus tax)
If you need financial assistance, click here.
REGISTRATION
To secure your spot in a program you must do 2 things:
1. Fill in a registration form for Kahnawake here, or for Cap-Saint-Jacques here.
2. Pay at least a deposit of 50%, by paypal (see below) or by mailing a cheque (with taxes of 14.975%) to:
Programmes Coyote
4553 ave Draper
Montreal, Quebec
H4A 2P5
** For deposits: Payment in full is due at the latest by the 1st day of the program. 
Lastly: we will send a welcome email one week before the first day with all the details you will need for participation (e.g. directions, gear list, preparation if needed..)