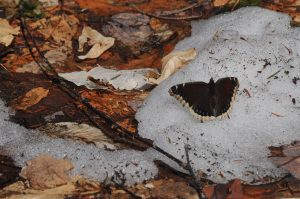 The chickadees can be heard singing their song amidst the winter storms, the owls know where to go to find food in the darkest nights, the foxes know the trails to take to avoid being seen, as the trees stand patiently waiting for the right conditions to pull water to their waiting buds.
The winter offers an incredible feast of explorations and lessons that the participants of our March Break Day Camp will encounter. Youth between 9 – 12 years old will participate in activities that build connections with the flora, fauna and ecology of the Parc Angrignon. We will also practice survival skills related to fire, shelter, water, and food to further build our relationship with the land and the skills of resiliency, humility and responsibility. We will also explore community practices like singing, storytelling, and group challenges to nourish our leadership and cooperation skills.
Get ready for snow games, tracking, bread making on the barbeques, and legends of frosty heroes and worlds covered in ice! Keep your best winter clothes out! More layers is better than not enough!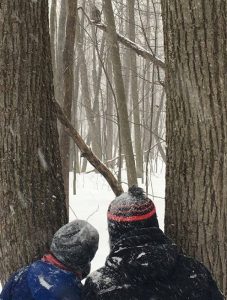 Schedule:
The week of camp starts on Monday February 28th and ends on Friday March 4th. Every day starts at 9am and finishes at 3pm.
Pricing:
You can choose between these 3 prices:
$340 + tx is the regular price for the week.
$290 + tx is the reduced price, for families who require financial assistance.
$390 + tx is the sponsor price, if you would like to contribute to our financial assistance program.
If the program is full, do not hesitate to sign up to the waiting list. We will likely know 2 weeks before the start of program if we're up to receive another staff and 6 more participants!
Register a sibling to this program and get 15% off the 2nd registration!
We will send a welcome package 1 week before the first day with details on where to meet exactly at the park and how to prepare.
Registration for March Break Day Camp will be open very soon!
---
*** Please note that all our activities are adapted to be in complete accordance with the By-law concerning parks under the jurisdiction of the city council of the city of Montréal. We invite you to learn the rules specific to the Montreal parks you like to spend time in with your family. Following these by-laws we will all be doing our part to support the ecological health and safety of our precious wild spaces. ***