Youth between 4 – 12 years old will participate in activities that build connections with the flora, fauna and ecology of the Angrignon Park. We will also practice survival skills related to fire, shelter, water, and food to further build our relationship with the land and skills of resiliency, humility and responsible adventuring in the forest. We will also explore community practices like singing, storytelling, and group challenges to nourish our leadership and cooperation skills.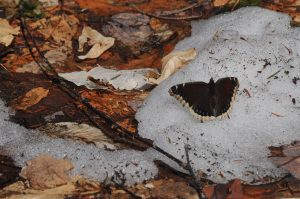 The groups start and end the day altogether, and spend most of their days in age specific groups. We prefer to keep it at a ratio of 1 mentor to 6 participants so that we can garantee quality mentoring.
We will send a welcome package 1 week before the first day with details on where to meet exactly at the park and how to prepare. Keep your best winter clothes out! More layers is better than not enough.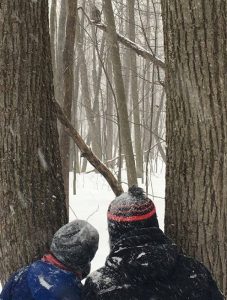 The day runs: 9am – 3pm. Monday to Friday.
The price for the week is 275 + tax.
We also offer pre care and after care for an additional fee.
Pre care is 8:30am – 9am. For an additional 25$ for the week.
After care is 3pm – 4pm. For an additional 35$ for the week.
If the program is full, do not hesitate to sign up to the waiting list. We will likely know 2 weeks before the start of program if we're up to receive another staff and 6 more participants!
Register a sibling to this program and get 15% off the 2nd registration!
Click here to register!
*** Please note that all our activities are adapted to be in complete accordance with the By-law concerning parks under the jurisdiction of the city council of the city of Montréal. We invite you to learn the rules specific to the Montreal parks you like to spend time in with your family. Following these by-laws we will all be doing our part to support the ecological health and safety of our precious wild spaces. ***