This program is a bi-monthly adventure where children from 4-9 years old can have the opportunity to connect to wild nature with our mentors at Angrignon park.
This is an incredible opportunity for kids to have regular immersion into the natural world, into intentional community living, and in skills and adventures that will deepen their connections with the life around them.
Activities will include: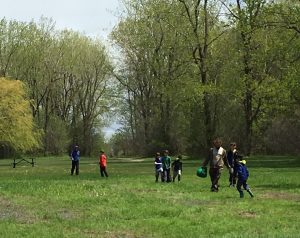 Songs and storytelling
Adventures in the woods
Learning to carve using soap and wooden knives
Games for opening the senses, learning to sneak, and teamwork
Learning about and using wild plants
Animal tracking
Natural shelters
Embodying animals
Friction fires
Finding the tracks and signs of wildlife
Learning how to listen for the language of birds
Practicing being sneaky and camouflaged like animals
Learning about and using edible and medicinal plants (and how to avoiding the dangerous ones!)
Mapping the land
Crafts with natural materials such as basket-making
Tarp and knot skills
Navigation and lost-proofing
Natural shelter building
Playing awesome games inspired by nature
… and much more!
Some of the culture-building routines that we want to practice include:
Sharing sincere gratitude
Storytelling
Setting goals in community
Setting peace-keeping community agreements
Opening and using all of our senses
Practicing being quiet and observant in the forest
Making music together
Following our passions to the lessons they will lead us to!
Parent involvement for hesitant children:
The Dragonflies & Raccoons program is an amazing opportunity to foster independence and connection to the land and a community at such a young age.
For the first two days parents of Dragonfly aged children (4-6) are welcome to attend if their child would need the extra support to help get used to the program. At the beginning of our third day we will have a special moment where children will decide themselves if they are ready to participate without their parents. If the child does not feel ready, that is ok! We can try again next season, and the parents will be reimbursed a prorated amount (they will pay for the days the child has participated).
This program is for ages 4 to 9, with the Dragonflies at 4 to 6 and Raccoons at ages 7 to 9. We start and end the day all together, and kids split into their age specific groups for the day.
LOCATION:
Angrignon park. The meeting spot is a 7 minute walk from the metro next to the bathrooms.
SCHEDULE:
Sundays twice a month from 10 am to 2 pm
FALL 2019:
September 8th, 22nd
October 6th, 20th
November 3rd, 17th
December 1st
COST:
280$ (plus tax)
If you need financial assistance, click here.