True survival will be measured in whether the archaeologists find ruins or continuing oral traditions." – Jon Young 
These family-friendly events are a chance to celebrate the natural world together. We will also do fundraising events for financial assistance for our programs.
Upcoming Event: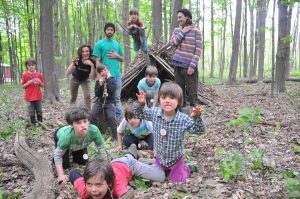 Coyote Programs scholarship fundraiser – Silent auction of handmade crafts, music, magic and story. 
Westmount Park United Church – Friday December 15th- 6:30pm – 9pm.
4695 Boulevard de Maisonneuve O, Westmount, QC H3Z 1L9
This is a moment to savor some good music and stories, pick up some original gifts for the holidays, and to help a good cause – helping these nature connection programs be accessible for those in need.
Suggested donation – $10 – 20 –  no one turned away