True survival will be measured in whether the archaeologists find ruins or continuing oral traditions." – Jon Young 
These family-friendly events are a chance to celebrate the natural world together. We will also do fundraising events for financial assistance for our programs.
Upcoming Event: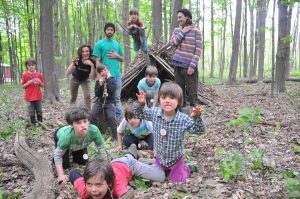 Sunday, June 16th, 5 à 7, end of season pot luck and sit-spot-a-thon celebration, Angrignon park
Join us Sunday June 16th at Angrignon park for some games and stories! We will meet by the pond and bathrooms, a 5 minute walk straight out from the metro.
5 à 7
This will be the closing of the season and a celebration of our sit-a-thon. We are raising money for financial assistance to keep making our programs accessible to those who need the help. This past season we gave over 3000$ in financial assistance.
Support the cause and or just come hear stories of peoples sits and highlights from the year ! Bring food to share and be ready for a game or two !