True survival will be measured in whether the archaeologists find ruins or continuing oral traditions." – Jon Young 
These family-friendly events are a chance to celebrate the natural world together. We will also do fundraising events for financial assistance for our programs.
Upcoming Event: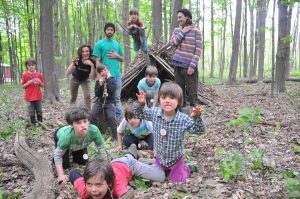 A Musical evening and Silent Auction of hand made crafts
December 6th, 6pm – 9pm.
Westmount Park United Church
4695 boul de maisonneuve ouest
Westmount, QC
H3Z 1L9
This fall season we have given out over 2000$ in financial assistance to help make our mentoring in nature programs more accessible.
We wish to continue our generous scholarship offerings and that requires us to take a moment each season to raise funds.
This fundraising event will be an evening of nature themed songs and also a silent auction of hand made crafts. All ages welcome. No cover charge. Donations welcome !