True survival will be measured in whether the archaeologists find ruins or continuing oral traditions." – Jon Young 
These family-friendly events are a chance to celebrate the natural world together. We will also do fundraising events for financial assistance for our programs.
Upcoming Event: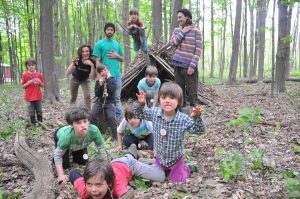 Stories about the art of mentoring: Tools and routines for a more nature-connected world
Monday September 11th, 7pm – 9pm, Café Zephyr – 5791 Sherbrooke St W, Montreal, QC.  Suggested donation – 10$
Join the Coyote Programs founders for stories about our vision and experiences with our new nature school. We follow a program model that draws on fun and dynamic routines to deepen ties with the more-then-human world. From knowing and using edible and medicinal plants, understanding bird language and interpreting animal tracks, dynamic meditations and awareness challenges disguised as fun games, practicing bushcraft and survival skills, all the while cultivating rich and meaningful mentoring relationships – we have a vision of holistic human fulfillment which engages connections to nature, community and self.
Hear stories about our program style and the hilarious, the challenging and the soulful impacts that can occur.
An evening of songs, snacks and storytelling.