"We learned to be patient observers like the owl. We learned cleverness from the crow, and courage from the jay, who will attack an owl ten times its size to drive it of its territory. But above all of them ranked the chickadee because of its indomitable spirit." – Tom Brown Jr.
The Chickadees & Ermines program is a weekly morning adventure where children from 4-9 years old can have the opportunity to connect to wild nature with our mentors in Kahnawake.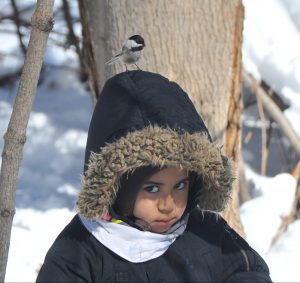 Our goals for participants are to:
Develop motor skills and body awareness through physical play
Learn about the local plants and animals through stories and challenges
Cultivate resilience and empathy by learning to take care of themselves and each other in the outdoors
Learn to care for their personal gear
Cultivate an awareness of and relationship to natural hazards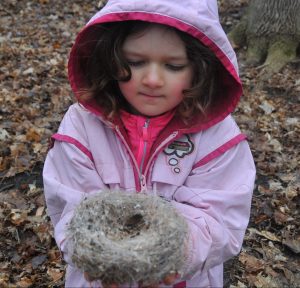 Activities will include:
Songs and storytelling
Adventures in the woods
Learning to carve using soap and wooden knives
Games for opening the senses, learning to sneak, and teamwork
Learning about and using wild plants
Animal tracking
Natural shelters
Embodying animals
Parent involvement for hesitant children:
The chickadees program is an amazing opportunity to foster independence and connection to the land and a community at such a young age.
For the first two days parents are welcome to attend. At the beginning of our third day we will have a special moment where children will decide themselves if they are ready to participate without their parents. If the child does not feel ready, that is ok! We can try again next season, and the parents will be reimbursed a prorated amount (they will pay for the days the child has participated).
This program is currently full.
Please register onto our waiting list in case a spot opens up and to receive more information.
(Scroll down and click on the + besides Les mésanges et les hermines / Chickadees & Ermines.)
Contact us if you have any questions.
LOCATION
Kawisente McGregor's beautiful backyard forest in Kahnawake
SCHEDULE
Mondays from 10am – 1pm
Fall 2019
9 sessions
September 30th
October 7th, 21th and 28th
November 4th, 11th, 18th, 25th
December 2nd
COST
$260 (plus tax)
If you need financial assistance, click here.